Today's Workout: Boxing
This morning's boxing session ended up being as fun as I thought it would be. I don't know what it is, but something about being able to hit the pads as hard as you can is motivation enough to get a great workout. Unfortunately I couldn't take any pictures during boxing because both Lisa and I are busy during the whole workout. One is hitting, while the other has the pads on, so there isn't any rest time. Basically the workout consists of one-minute intervals including different hits such as jabs, upper cuts, and hooks. I also combine hits with other movements such as squat jumps, lunge jumps, burpees, pushup, etc, in order to involve every muscle group in the body. We ended with combining different punches with running as well. Every type of training is included in one session. The more creative the workout, the better. I do a lot of boxing with my clients, and I constantly mix up the sessions and make them as hard as possible.
After boxing, I spent a few minutes doing my favorite stretches on the TRX. I do these stretches around twice a week.
Today's Playground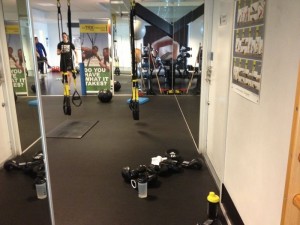 Stretch 1: Hip Hinge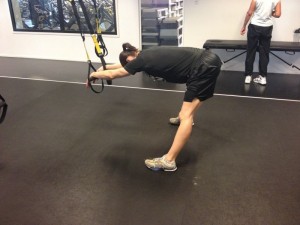 Stretch 2: Lower Back Stretch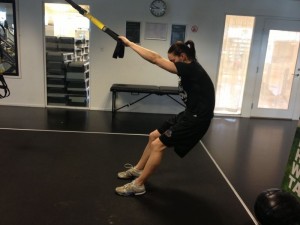 Stretch 3: Lower Back Stretch with Rotation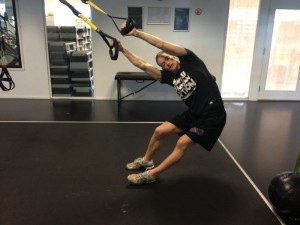 Stretch 4: Chest Stretch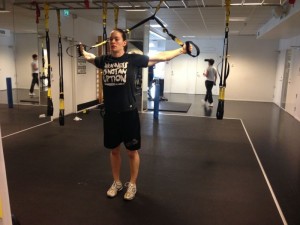 After the stretching, I was happy with the day's workout session. I was prepared to take the day off and just eat and relax for the rest of the day and tomorrow as well. I was in for a surprise when I went to the achilles project at GIH. Some physio therapists were doing an experiment to test the elasticity of the achilles before and after exercise when they are fatigued. I had no clue before I got there what they were going to be testing, and as my close friends know, I am bad at asking for details. So I didn't realize that I would have to do some intense physical activity. First they tested the range of motion in my ankle. Then I was asked to do jumps, run as fast as I could on a treadmil for 7 min, and jump rope for 7 min. Then they would take the measurements again. I ran at a tempo of 14.5 km per hour, and that was hard. It was the first time running since the season ended. Jumping rope ended up being the worst. My muscles in my feet were cramping, and my achilles were yelling at me to stop. I survived the test, and then it was Katta's turn. She didn't really know what she was in for either, and I was happy to tell her….and take pics.:)
Testing the range of motion in my ankle.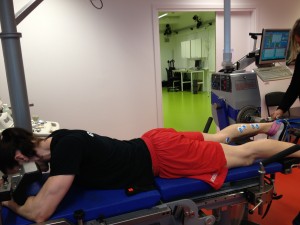 The Jump Test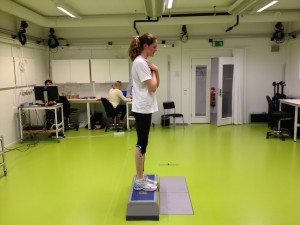 Running on the treadmill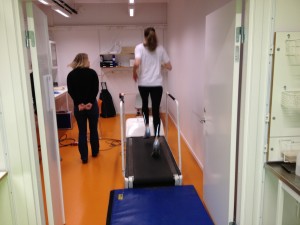 Jumping rope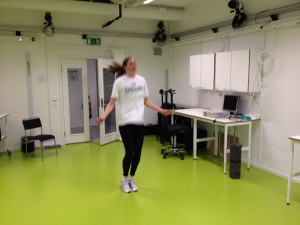 Tomorrow will finally be a rest day. I won't even be walking fast.:) I have a full day of work planned, so I will make sure to bring a lot of food to munch on during the day. Rest is just as important as working out. Train hard, rest hard! Try telling Lisa that….:)