Today's Workout: Lats, Shoulders, Abs
Lisa and I decided to really push with the pullups today. Instead of using an extra 5kg weight around our waist, we decided to use 10kg.  This meant less pullups and more negatives which are really tough. Both of us were able to get 9 pullups on the first set, which left 3 negatives. Not bad. We always have to get at least 12 pullups, if we can't get more. So if we can't get all 12 reps of pullups, we owe the difference in negative pullups. Negative pullups are done by jumping up to the bar off of a bench and then going down really slow. It's a great way to build strength in the lats. I was only able to get 6 reps on the second and third sets, so I had 6 negatives for each set. After 3 sets of heavy pullups, we ended with a set of normal pullups, just doing as many as we could. I ended up getting 10 reps. I was really satisfied with that.
After pullups, we kept training the lats with assisted pullups, 3×12, and then close grip assisted pullups. These exercises are painful not only for the lats, but for the forearms as well. After a fourth exercise for the lats, it was time to move to the shoulders.
Assisted Pullups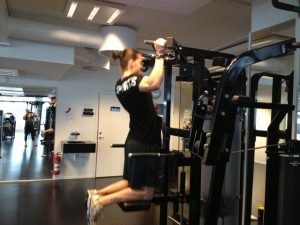 I am always joking with Lisa that her lats look like wings….See what I mean?:)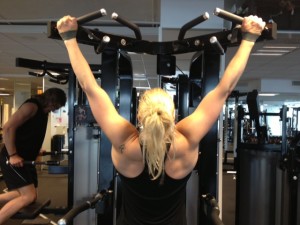 We started off training shoulders with the bar press. My goal was to set a new weight record for 3×12, 40kg. It was heavy, but I was able to do it, with a tiny bit of help from Lisa who spotted me on the last set. That's what is so nice with having a lifting partner. You can dare to go heavy because you know that you have help if you need it.
40kg Bar Press!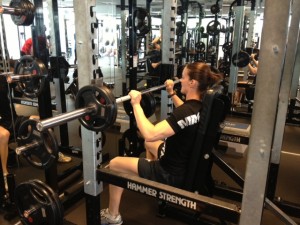 Lisa and I both went up in every single exercise that we did today! It's fun to see us getting stronger and stronger. After this round, and two days off, we will start going 3×10 with the program. That will mean that we will start with even heavier weight. I can't wait to see the progress!
This Saturday MM Sports is having a Jubileumsevent and a deltävling av Rep-Power i butiken på Övre Husargatan. Come and check it out!! There will be amazing offers on both supplements and clothes!
Last, but not least, Lelle posted the first picture from my photoshoot! I have to say, I was pretty impressed when I saw it. That girl is TALENTED!!! She knows exactly what will give a good picture. I really look forward to taking more pics with her in the future….at least for the fun and laughter that comes with being around her!