Today was round two chest and upper back day. On the schedule was bench press with the bar and incline bench with the bar. I warmed up on the bench and had no problems. Then I put on my working weight of 60kg and began my first set. Within the first few reps, I felt pain in my left shoulder. I have had this pain before, especially after the Gladiator taping. After one of the gatlopp events, the chiropractor had to pop one of my ribs back into place, and when he did it, something happened in my shoulder right on top of the collar bone, and I have had pain there ever since. It has gotten a little better during the basketball season since I couldn't lift as much, but after just a few reps of the bench, it felt like it was right back to where it was after the show. Of course I finished all three sets because I am stubborn and stupid, but I had to go down in weight. After I completed the rest of the workout, I decideded that it's not worth bench pressing with the bar. Since I already have a dumbell and machine day for the chest, I will add another db day, but make it a pause day, pausing for one second at the bottom of the movement. Sometimes you have to be smart and listen to your body. You can always get a great workout in no matter the injury. You just have to use your imagination.
After training chest and upper back, it was time for abs. The last time Lisa and I did this ab workout, I couldn't even touch the sides of my stomach because it was so painful. So we were both a little scared to do this day again. ;) The first exercise that we did was incline abs. We set a bench up to an incline and lifted our legs to curl our knees to our chest. 3 sets of as many as we could do. The next exercise was a superset of bench abs and back extensions abs. Bench abs is kind of like doing crunches on a bench, except you have to kick your legs straight and bring them back in. Again 3 sets of max. In between we worked the sides of our abs by doing side crunches on the back extension machine while holding a 10 kg weight. 3 sets of 15 on each side. There is no rest in between the exercises. Lisa started on the back extension abs while I started on the bench abs, and we just kept switching exercises until 3 sets of each were completed.
We were completely dead once again after today's workout. Now it's only one more day of round 2 before our 2-day rest period. There won't be any liftng during those days, but boxing is definitely on the schedule. :)
One of my favorite exercises for upper back.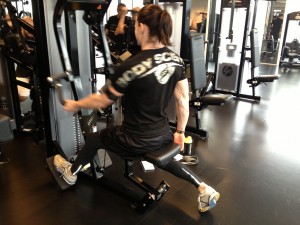 Perfect technique.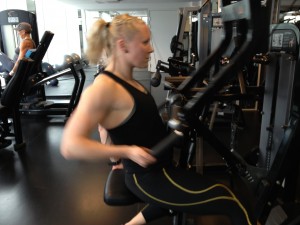 Incline abs.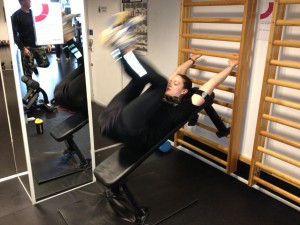 Knees to chest.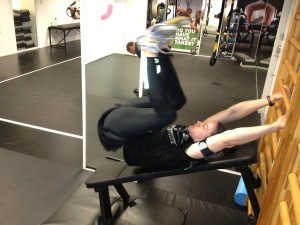 Bench abs.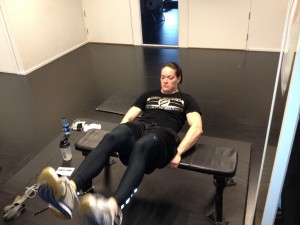 Back extension abs.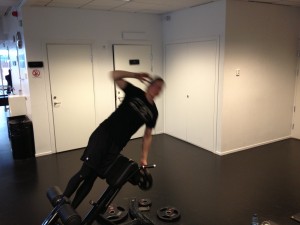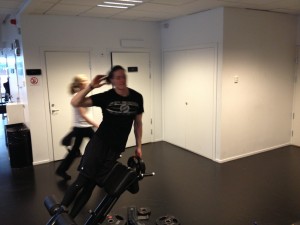 Lisa's favorite exercise. :)