Right before my summer vacation started, I was contacted by another guy that wanted help to turn his life around. He is in his early forties, and had a body fat percentage of over 35% which is dangerously obese. We talked about his background with training. He said that he played sports and was very active when he was younger, but fell out of it the older he got. With work and a family, it was hard for him to focus on setting time aside to train. He used to be competitive when he was younger, and his goal was to get a little bit of that back. He knew that he needed to make a change, or it was just going to continue to get worse. It had been years since he had last trained, he had never really lifted weights, and he hated running. I decided to help him immediately. I could tell by just talking to him that he was serious about changing his life, that all he needed was someone to show him how to do it. I was extremely eager to get him started.
We started by taking his measurements and beginning pictures. Then we started with the first training. After determining his beginning level of movements, I put him through a basic strength training session. He worked hard and was exhausted at the end of the session. Before I left that day, I told him that he will have to drastically change his eating habits. I am not a big fan of diets. I believe that people should change the way that they eat and make it a part of their lifestyle. I told him to make the changes that I believe will help him reach his goals faster. It's simple and easy to remember: only eat food in its natural form, and stay away from all processed foods. Eat when you are hungry, but only eat natural foods. He made a vow to commit to this change. We had 12 weeks to make as big a change as possible. He met me once a week, and then I gave him training "homework" that he had to do on his own during the rest of the week.
This past Friday was the last week of his program, and we started off taking his measurements and pictures. I was really excited to see his values because I could physically see the changes made so far. His results were even better than I had hoped:
Measurements in millimeters
Beginning Values Present Values
Bicep 10 8
Tricep 16 9
Shoulder blade 34 22
Hip 41 27
Chest 25 17
Thigh 25 16
Weight Kg 102.6 90.5
Body fat % eat. 28-29% 35%+
(skinfold caliper)
Here are his before and after pictures.
AFTER pictures on the left, BEFORE pictures on the right: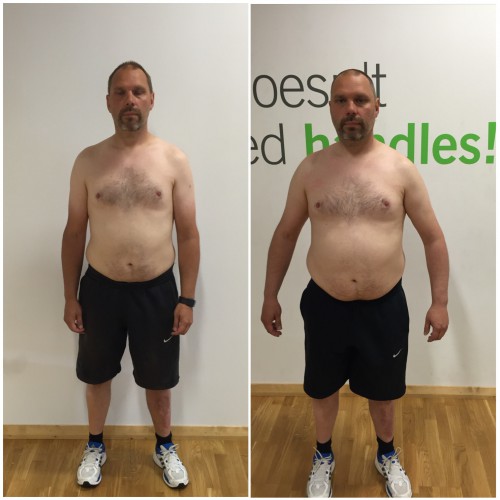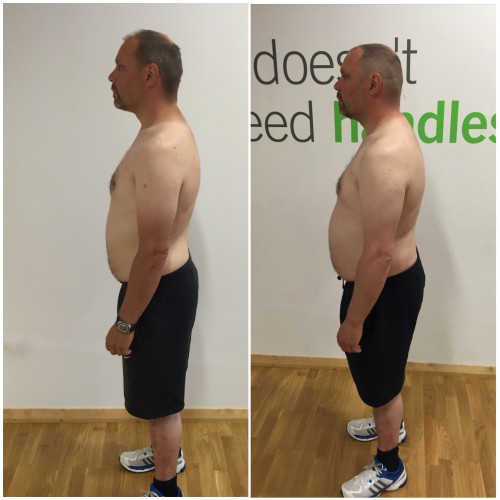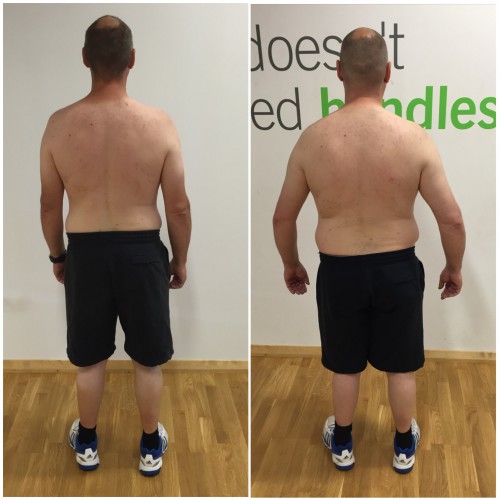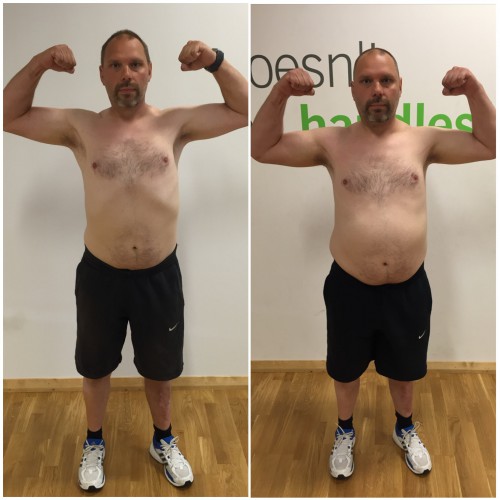 We made some big changes during this training phase, but we aren't stopping there. My client has really started to like lifting weights, and he wants to build a body that he can really be proud of. I can't wait to see what the progress will look like after phase two!
To all of you out there who feel like you are ready to get in shape and change your lives, I AM READY TO HELP! Contact me at absolutefitness@live.se so that we can get started right away!