Episode 3 Attackboll
Episode 3 Hängbron
Episode 2 Gatloppet Runs
First Gatloppet Runs of Season 2
Bullet's intro for season 2
Sometimes you get what you ask for…
The semifinals in the Gladiators has so far been filled with exciting duels between the challengers and the Gladiators, with even more thrilling competition between the challengers in the hinderbana.  Some of the wins came down to mere seconds, with the löpband being an impossible obstacle to conquer for challengers who were so close to winning.  Since the show was taped so long ago, I don't remember the outcome of most shows, or even the outcome of most duels for that matter. Because we taped two shows a day, it feels like they all just blended together. It's fun for me to watch the show and feel as though I am experiencing it for the first time!  Although I don't remember all of the challengers, one challenger that I do remember is Dajana.  Dajana arrived with her gang of family members, who all wore shirts in her honor and were not afraid to let you know who they were cheering for and what they thought about each gladiator who was competiting against her. Dajana displayed an immediate confidence right from the start, which is absolutely needed in order to have a chance to win the show, but what she displayed in confidence, she also displayed in cockiness, which NEVER comes across well with the Gladiators. Competition is competition, and no matter who the utmanare is, the Gladiators always want to win, but there are certain challengers that we want to beat more than others, and Dajana was definitely one of them. To see someone exude so much cockiness makes you want to step up your game. It makes you extremely focused on making sure that they don't score one single point against you.  Her cockiness towards me definitely pushed me to perform at my best which is exactly what the playoffs are all about! Were the emotions in Gatloppet real? Absolutely. Was I out to kill her? Of course not. Did I have hard feelings after the show was over? Not at all. It's exactly the same for me with basketball. To beat a team or person who is too cocky for their own good is definitely one of the best feelings ever. So I want to thank Dajana for being the challenger who wasn't afraid of being herself and definitely not afraid of waking up the Gladiators, and I want to thank her family for their aggressive support for her. You gave me an opportunity to "posterize" you, as we say in basketball, which is a moment that I will always remember! This will be one of the most exciting shows of the season!

Exciting Semifinals in Gladiatorerna, no show this Saturday!
Last Saturday was the first episode of 3 of the semifinals for Gladiatorerna, and it proved to be a very intense and exciting show with tough competition between the challengers that ended in two tight races in the hinderbana on both the women's and men's side.  As a gladiator, I can really see the improvements that the challengers have made from their first time on the show to the second time in the semis. They have become more efficient at each event, and it seems as though they have become more and more relaxed when facing the gladiators in competition. If this pattern continues, it should definitely make for one intense and thrilling final! I was really impressed with the competitive effort of both Elin and Linda in the last episode. They both had a great competitive attitude not only against the gladiators but against each other as well. It came down to the very last obstacle in the hinderbana, and the win could have gone either way. It was definitely exciting to watch, and that's exactly what this show is all about!
This coming Saturday is the final for Melodifestivalen, and since it's undoubtedly going to bring in an extreme amount of viewers, TV4 has decided to let Melodifestivalen have it's night.:) The second semifinal show will be shown Saturday March 17th. Mark this day on your calendar, because I am sure it's going to be an exciting semifinal!
Gladiatorerna- tough competition!
Episode 7 shown this past Saturday proved to be one of the most aggressive episodes shown so far! With Saga Sundberg getting knocked unconscious on an extremely hard tackle by Stinger in the second event, attackbollen, reserve Malin Borensjö was ready to step up and make use of the opportunity that was given to her. The other women's contestant, Petra Lundin, a 45 year old mother of two, really impressed everyone from the beginning of the show with her amazing physique. Anyone would be absolutely estatic to look like her at the age of 45…actually, anyone at any age would be happy to have her physique! I think that as the show continued and as the events became more physical, I don't think that Petra was mentally prepared for the intensity that the show brings. Yes The Gladiators is entertainment television, but to the Gladiator and utmanare, it is nothing but true competition, in one of the most intense environments imaginable. I can understand that Petra was truely scared, and when you go into defensive mode, you will do whatever you need to to protect yourself. I know that it must have been hard for her to keep competiting when she wanted to stop, and for that you have to give her respect. But to all future challengers who are thinking about competing in the Gladiator's Arena, DON'T COME IF YOU ARE NOT READY! It will not be a walk in the park….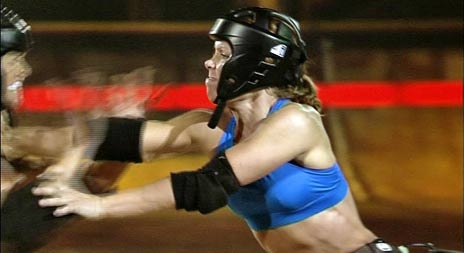 Don't miss Saturday's episode (#7) of Gladiatorerna. Things get a little heated!
Going against Linn on Hängbron in the first episode of Gladiatorerna:
Bullet's presentation: