I spent the last weekend in La Rochelle, France in order to be a competitor on the popular Swedish tv show Fångarna på Fortet. For those of you who don't live in Sweden or don't know what show that is, it's a lot like the tv show Fear Factor in the states, except it's not so extreme. It entails winning keys and secret words, with two teams of three people competing against each other. The team that wins gets to choose the charity of their choice to donate the money to.
The taping of the show takes place in a prison that is stranded in the ocean. The challenges take place in the cells of the prison and outside of the prison as well. Some of the challenges included in the game are bungee jumping, jumping from an extremely high position into the ocean and swimming, being in close proximity of and picking up ginormous tarantulas, scorpions, worms, mice, climbing different obstacles, etc. You have no clue which tasks you are going to do until seconds before.
When the production company called and asked me if I wanted to do the show, I thought it would be so fun, so why not. I admit that I had not seen even one whole episode of the show, so I didn't really know what what I was saying yes to. I knew that you had to do some tasks that were hard or a little scary, and that was about all I knew. I looked up on YouTube and gained a much better perspective of the show. I thought 'What did I get myself into?' I could of course back out if I wanted to, but I thought that this would be a great opportunity to push my boundaries, to do things that I would never choose to do voluntarily. It would be a great way to look fear in the eye, and conquer it.
Along with the contract, Fångarna på Fortet sent a health declaration, asking if i have injuries, along with things that you would absolutely not do. Due to having herniated discs in my lower back and in my neck, there was one certain thing that I stated that I absolutely cannot do. I know that this show is supposed to push the boundaries of your fears, but risking an injury that would prevent me from playing basketball or doing Gladiatorerna was NOT an option.
Seeing the prison in real life was amazing! It was much smaller than you would expect it to be but every bit as awesome. We started off by being briefed on how to pick up the bugs and animals safely without hurting them. They really stress the safety of the creatures, which I really think is cool. Then we went over a few of the tasks, just to save time on safety issues, but we still had no clue which tasks we would have to perform. After that, it was time to start.
The show starts off with a bang. It's an event for me and Lisa (Valkyria), and it's both a scary and physically challenging task. I was surprised how I didn't even hesitate. It felt good to do it! They taped the show in record speed. You are hardly ever standing in one spot. You run from one place to another, and you often don't get to see your teammates competing because as they are competing, you are off running to get ready for your next event. They are extremely efficient with time.
Everything was going smoothly until we get to the last event. Lisa got to do one that was extremely challenging, so I was really looking forward to what they had in store for me. We get down to my last event, and when they told me what it was, I realized that it was the ONE thing that I told them I couldn't do because of my back.
I told them that it's too much of a risk for my back, so one of my teammates did it.
The next morning after the taping, I woke up pretty upset. I found it really strange that they signed me up for the only event I couldn't physically do. I went to talk to the producers, and they said that they didn't know I couldn't do it. How could they not? I wrote it clearly on the health declaration. Plus, they couldn't switch the event, since this particular one was already set up. That meant that I couldn't do a last event, and I was really looking forward to it.
Overall, I had a pretty good experience. I wanted to do something that scared me, and I was able to do that. I am really grateful that I was able to participate in one of the most popular shows in Swedish television. I could really tell that it meant so much to the other contestants. It's as if Fångarna på Fortet owns its own share in Swedish culture and tradition.
If they ask me to do it again, I will definitely say yes.
Pics from the trip. Enjoy!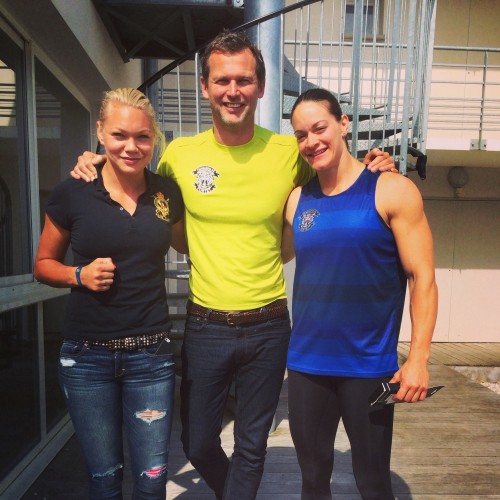 On our way to the prison.


Lisa being playful.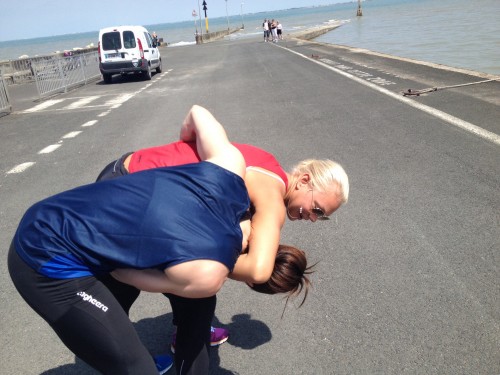 With the hosts, Agneta and Gunde!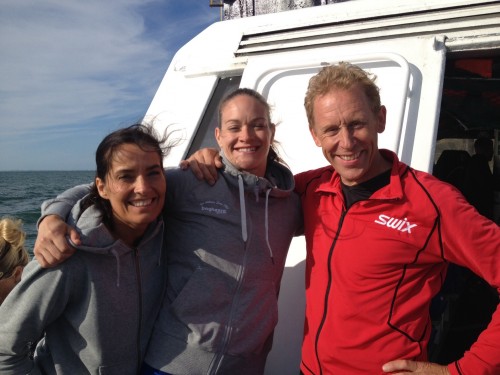 One great goalie!;)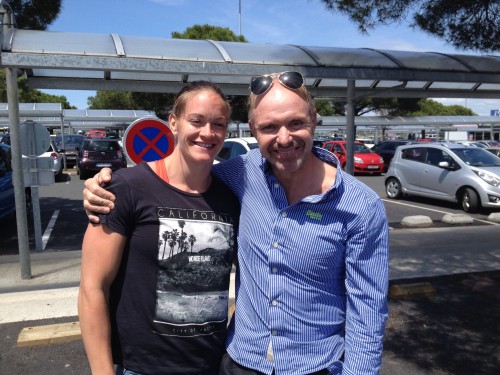 One word, handsome.